1 - INTRODUCTION

In September 1995 about 120 relatives of the Boekelo-, Boekeloo-, Bukelo- and Buckelo-families from The Netherlands and Germany, met at a Boekelo Familyday in Bedum, The Netherlands. During this meeting Freerk Boekelo from Vorden, The Netherlands presented his "Geschiedenis and Genealogie van de Familie Boekelo", containing the familyhistory from 1704-1995.
Unfortunately there's no english version of the familyhistory available, although many relatives live somewhere in the USA. Especially for them this page has been meant as a kind of bandage on the wound ! Further information, or your personal Boekelo(o) pedigree, is available when you send an email to subjoined emailaddress.




2 - ABOUT THE FAMILYNAME BOEKELO(O)

The name Boekelo(o) is a very old name. It has two parts, "boeke" and "lo(o)". Both are very old Germanic words, meaning "beech" and "wood"; others explain the name as "meadow in a beechwood", or "meadow surrounded by beechwood".
It is very likely that the familyname Boekelo(o) is related to a little village Boekelo, in the province of Overijssel, The Netherlands. Once there has been the Court at Boekelo(o), owned by the noble Ripperda-family from Groningen. It's not clear how the name Boekelo(o) came to the province of Groningen, but it's likely that it has something to do with the activities of the former Ripperda's.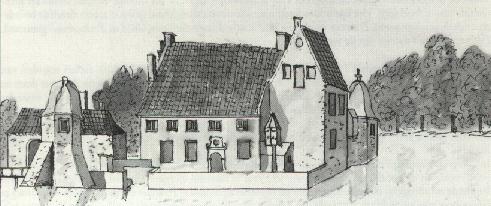 Court at Boekelo by C. Pronk (1729)



In the subjoined text all ancestors and their relatives will be given a personal number;
the numbers correspond to the personal numbers in the original text.


3 - FIRST KNOWN FACTS

The Boekeloo Familyhistory starts at the last day of the year 1704, when HINDRICK FRERICKS and ANNIGHJEN CLAESEN married in the famous Reformed Martinichurch in the city of Groningen, The Netherlands. In all probability the familyname Boekelo(o) existed already, but was not in use. In the province of Groningen at that time, one used his father's name as second name. So Hindrick Frericks means Hindrick-the-son-of-Frerick, like Annighjen Claesen was Annighjen-the-daughter-of-Claes.
From the marriage-records of the Martinichurch we know that Hendrick came from Winsum, and Annighjen from Delfzijl, both in the province of Groningen. The baptism-records of the same church mention that Hindrick and Annighjen lived in a street called "Raden", when their first child had been baptized: FRERIK, bapt. Jun. 6 1705.




4 - FRERICK HINDRICKS (#1) & BARELTJEN DERKS

Because it's not quite sure that the above mentioned Frerik has been the same person as the first known ancestor of all Boekelo(o)'s, the familyhistory properly starts with a FRERICK HINDRICKS, who married BARELTJEN DERKS in the Reformed Church of Middelstum at May 1 1740.
Bareltjen was the daughter of Derck Jansen and the former widow Geertruid Luitjens, married in the Reformed Church of Winsum at Mar. 13 1711. From Bareltjen we know that she lived in Godlinze, before she came to Middelstum. The church-records of Middelstum mention her admittance to the Lord's Supper at Dec. 14 1738.
After their marriage Frerick and Bareltjen removed to Sauwerd. From the Sauwerd church-records we know that Frerick was a professional tailor. The same records mention Bareltjen as member.
In 1744 they removed to Noordwolde. The last notes about Frerick and Bareltjen in the church-records of Noordwolde, date from resp. Sep. 1758 and Sep. 1761.
According to the baptism-records of Sauwerd and Noordwolde, Frerick and Bareltjen got seven children:



HINDRIK (nr.2), bapt. Feb. 22 1742
ANNA (nr.3), bapt. Jan. 24 1745
ANNA (nr.4), bapt. Nov. 12 1747
DERK (nr.5), bapt. May 24 1750
GEERTRUYDT (nr.6), bapt. Nov. 14 1751
JACOB (nr.7), bapt. June 16 1754
DERK (nr.8), bapt. Aug. 27 1758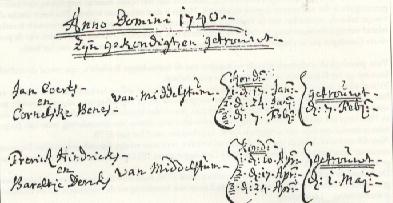 Marriagerecord of the Reformed Church of Middelstum,
mentioning the marriage of Frerick Hindricks and Bareltjen Dercks at May 1 1740






5 - HINDRIK FREERKS (#2) & AALTJE PIETERS

About April 16 1769 HINDRIK FREERKS (NB: till the end of the 19th century there was no uniformity in the spelling of names !) married AALTJE PIETERS in the Reformed Church of Winsum. She has been baptized in the same church at Feb. 11 1733 and was the daughter of Pieter Heres and Renske Jansen.
All his life Hindrik Freerks has been a daylabourer. In Winsum their first and only child has been born and baptized:



FREERK (nr.9), bapt. Sep. 12 1770




About 1789 Hindrik, Aaltje and Freerk removed to Westerdijkshorn. From the 1789 church-records we know that Hindrik borrowed that year 281 Carolus-guilders and 5 pence from the church, to pay his mortgage. Each year he had to pay 11 Carolus-guilders and 5 pence interest.
According to the church-records Aaltje Pieters died between June 1789 and May 1795. In that last mentioned year Hindrik paid all his debts.
At Aug. 21, 1808, when he was 66 years old, Hindrik Freerks married in the Reformed Church of Winsum the widow GEERTRUID JANS from Ranum. He left Westerdijkshorn and removed back to Winsum. At that time he was an indigent man. He died in Winsum at Wednesday Nov. 16 1814.


At Apr. 29 1812 Jacob Freerks (nr. 7) from Grijpskerk, younger brother of Hindrik Freerks (nr. 2) stated to the local autorities to choose as his surname the name of Boekeloo. This is the first known document in which this surname is mentioned.






6 - FREERK HINDRIKS BOEKELO (#9) & AAFKE EISSES MULDER

At Nov. 7 1794 "Frerik Hinderks from Westerdijkshorn and Aafke Eisses from Huisinge" married in the Reformed Church of Onderdendam. Aafke has been baptized in the Reformed Church of Huizinge in May 1771. Her parents were Eysse Egberts and Tjaakje Reints.
Freerk and Aafke were daylabourers. From 1794-1813 they lived in Westerdijkshorn. Somewhere between 1810 and 1813 they removed to Middelstum, but returned to Westerdijkshorn (about 1817). From 1821-1827 they lived in Uithuizermeeden, and at last in Zandeweer (1833-1836).
Except their youngest child (born in Middelstum) all their children are born in Westerdijkshorn:



HENDRIK (nr. 14), born Nov. 3 1795
EISSE (nr. 15), born Jan. 24 1797
TJAAKTJE (nr. 16), bapt. Nov. 11 1798
ATE (nr. 17), born Oct. 1800
JACOB (nr. 18), born Oct. 24 1802
EGBERT (nr. 19), born Jan. 26 1805
REIND (nr. 20), born Jun. 26 1807
DERK (nr. 21), born. May 6 1810
AALTJE (nr. 22), born Sep. 7 1813



Freerk Hindriks Boekelo died at the age of 67, on Sunday Nov. 6, 1836 at 2.00 AM, in (house) nr. 49 in Zandeweer. Aafke Eisses Mulder died four years later in nr. 34 at Uithuizermeeden, at Apr. 28, 1840.




7. SPREADING OF THE NEXT GENERATIONS

***** All nowadays Boekelo's are descendants of one of the four subjoined ancestors *****



7.1 - HENDRIK FREERKS BOEKELOO (#14), born in Westerdijkshorn at Nov 3 1795, deceased in Kalamazoo-Mi at Jul 26 1868, buried at the Riverside Cemetery in Kalamazoo-Mi (lot A-35) at Jul 27 1868, married Anje Jacobs Houwer (later: Slager) in Middelstum at Sep 17, 1817;
Anje born in Middelstum Jul 7, 1796, deceased/buried in Kalamazoo-Mi at Sep 18 1875, buried at the Riverside Cemetery in Kalamazoo (lot A-35), daughter of Jacob Klases Houwer and Neeltje Hendriks (surname "Houwer" is oldfashioned Dutch for "Butcher"; the family changed the surname about 1822 by the modern word for butcher: "Slager").
Hendrik and Anje were members of the Christian Reformed Church in Middelstum, and were both accused of backbiting about another member of the church (in 1851), who should have slept with his servantmaid; although several other members of the church gave evidence against Hendrik and Anje, they denied backbiting for nearly two-and-a-half years.
They were excluded from the Lords Supper till they should plead guilty, which they did not do. When in Feb 1854 the church should take further measures against Hendrik and Anje, they more or less plead guilty and were fully accepted again. It won't be a coincidence that they emigrated a few months later, in Apr 1854, to Kalamazoo-Mi.
In Kalamazoo Hendrik Freerks Boekeloo changed his name in HENRY BOEKELOO. He was a professional painter (later: butcher). The Kalamazoo Census Records from 1860 mention Henry "Buckalow" as a farmer, with a house (worth $ 2200) and personal properties (worth $ 300). In 1867/68 they lived with there sons at 123 Portagestreet in Kalamazoo. Some old photos are inserted in The Boekeloo Photo Album.

7.3 - EISSE BOEKELO (#15) and his descendants lived till World War II in the ancestral area in northern Groningen. From there they spread all over The Netherlands. They spell their name with both a single or double-o: Boekelo and Boekeloo.

7.3.1 - In 1873 his grandson EISSE BOEKELO (# 88) emigrated to Muskegon, Michigan. His name changed in ISAAC BIGELOW and that's the way his descendants have spelled their names since than. For that reason the story of this Isaac Bigelow and his descendants was unknown to me till April 2012. Click here for additional information to the familybook, on Eisse Boekelo a.k.a. Isaac Bigelow (#88).

7.3.2 - A great-grandson named KLAAS BOEKELOO (# 188) from Bedum emigrated to Kalamazoo-Mi in May 1914. Some old photos are inserted in The Boekeloo Photo Album.

7.3.3 - Another great-grandson was FREERK BOEKELO (ex # 83) from Uithuizermeeden emigrated to Krefeld (Germany) in 1931. He is the ancestor of all Boekelo's from Krefeld. This part of the family was unknown to me till the end of 2020, when I found some information in the Arolsen Archive (formerly known as the International Tracing Service). Click here for additional information to the familybook, on the descendants of this Freerk Boekelo (NB: in German).

7.4 - Most descendants of JACOB BOEKELO (#18) live near the border in south-eastern Groningen. They spell their name with a single-o: Boekelo. Other descendants of Jacob Boekelo removed to Germany, just at the other side of the border in the Papenburg area. Others went to the Ruhr area. Most of these relatives spell their name as Bukelo or Buckelo.

7.5 - The only grandson of REIND BOEKELO (#20) emigrated to the USA in the 1890's. This grandson REINTJE BOEKELO (#123) went to Muskegon-MI, and not much later to Chicago-IL. In the US his name changed in RICHARD BOEKELOO. His descendants spell their name: Boekeloo.

Source: "Geschiedenis en Genealogie van de Familie Boekelo" (1995) © Freerk Boekelo
Information from this site and the original publication can be used freely when mentioning author, title and year of publication.