This album contains pictures from Klaas Boekeloo (#188), his wife Zwaantje van Dijk and their descendants in the USA. The numbers behind the names of Boekeloos correspond to the personal numbers in the original Dutch publication Geschiedenis en Genealogie van de Familie Boekelo (for an English summary click here).
Klaas and Zwaantje came to Kalamazoo, Michigan in the first part of the 20st century.
In Kalamazoo lived at that time already many Boekeloos (since 1854), all descendants of the above mentioned Hendrik Freerks Boekeloo (#14) and Anje Jacobs Slager from Middelstum, the Netherlands.
Klaas Boekeloo however was a great-grandson of Hendrik's younger brother Eisse Freerks Boekelo (#15) from Rottum, in the province of Groningen, The Netherlands. Klaas Boekeloo emigrated from Bedum, The Netherlands to Kalamazoo, Michigan on May 26, 1914, only a few days after his parents 25th anniversary.
When Klaas came to Kalamazoo he met his uncles Gerrit Laning and Cornelis Laning, both brothers from his mother Grietje Boekeloo nee Laning. Not much later Zwaantje van Dijk came to Kalamazoo also. Klaas and Zwaantje married in Kalamazoo and they got four children: Martin Boekeloo (#279), Ann Dykehouse nee Boekeloo (#280), Grace Mejeur nee Boekeloo (#281) and Garrett Boekeloo (#282)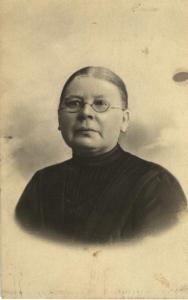 Grietje Laning
Grietje Boekeloo nee Laning was the mother of Klaas Boekeloo (# 188) from Bedum, The Netherlands.