Fenna Boekelo (#112), born at May 7, 1860 in Middelstum, The Netherlands, was the daughter of Ate Jacobs Boekeloo and Elisabeth E. Dam. She was 21 years old when she married Hindrik Jonker from Stedum, The Netherlands. She was a maid and he was a farmerlabourer.
Shortly after their wedding in 1882 they emigrated to Ferrysburg, Michigan. Their names changed in Fannie Boekeloo and Henry Yonker. Later they lived in Kalamazoo, Michigan at 928 James Street.
They got five children: Eliezabeth (1885), Wilhelmina "Minnie" (1888), Ate "Otto" (1890), Klaas "Charles" (1892, Yfke "Effie" (1897) and Antje "Anna" (1901). Fannie deceased in 1927. Her husband probably died in 1932.
Fannie's grandparents Boekeloo were Jacob Freerks Boekelo and Fenna Hendriks Scharphorn, the ancestors of all Boekelo's from in the southeast part of the Province of Groningen, The Netherlands and the nearby area in Germany. The names of most German Boekelo's changed in Bukelo, Buckelo or Bockelo. Fannie's grandfather Jacob Freerks Boekelo was a brother of Hendrik Freerks Boekeloo, who emigrated to the USA in 1854.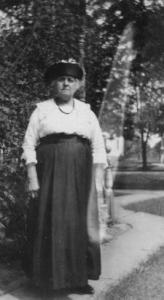 Fannie Yonker nee Boekeloo