In this photo album you 'll find photos from Jacob Hendriks Boekeloo (1827-1898) and his wife Stijntje Tijmens Havinga (1830-1903 a.k.a. Christine Boekeloo) and from their descendants. In 1854 Jacob and Stijntje immigrated with most members of his parental family into the USA and settled in Kalamazoo, Michigan.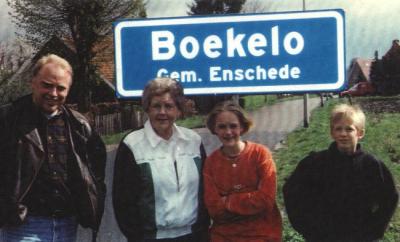 Shann Boekeloo (#219)
Shan Boekeloo visited The Netherlands in 1999. Here she visits the village of Boekelo, The Netherlands with Freerk Boekelo (left) and his daughter Klaske Boekelo and son Kobbe Jan Boekelo.